The AIGA Atlanta Design Continuum Fund (DCF) benefits minority and economically disadvantaged students who are studying art and design disciplines in colleges and universities in the Atlanta metro area. Our primary goals are to increase diversity in creative professions and to foster social and environmental responsibility in the artists, designers, and studios of tomorrow.
Scholarship recipients are selected not only for their talent and their need but also for their demonstrated commitment to giving back to the larger community through their work. Each award is paid directly to the recipient's school and applied toward tuition. This is a program of AIGA's Diversity & Inclusion initiative, in partnership with the Worldstudio Foundation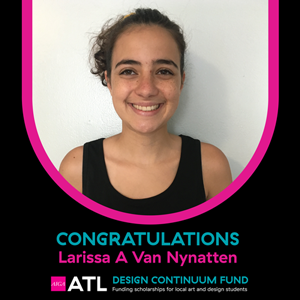 Congratulations to Larissa A. Van Nynatten! She is the winner of our 2018-19 AIGA Atlanta Design Continuum Fund Scholarship! Larissa is from Brazil and is a freshman at Savannah College of Art and Design, where she plans to pursue a major in animation with a minor in drawing. After graduation, she plans to work in character design and concept art.
When asked about her work, Larissa says "My truest thoughts and feelings bleed onto paper into colorful puddles. Adapting to change has been a constant in my life, and travel is my catalyst for growth. I have lived in a multitude of locations throughout Brazil with people from all over the world. This contributed a vibrant and colorful quality to my artwork, as well as an appreciation for diversity. I dream of working in character design animation, illustration, and concept art. By representing an abundant variety of people in all shapes, sizes, and colors, I will inspire an appreciation for diversity and constantly challenge conventional beauty norms. I yearn to showcase my unique view of beauty, to eliminate hate and fear of people who differ from the norm, and to help harness an appreciation for what skews outside of normality."
See the rest of this year's winners of the Worldstudio AIGA Scholarship recipients here.
If you would like to contribute to the AIGA Atlanta Design Continuum Fund, visit here.
QUESTIONS?
Please review all information above and the document listed under Rules and Requirements. Still have questions? Contact our Education Committee Chair at education@atlanta.aiga.org