AIGA Atlanta Board of Directors
Dallas Duncan Franklin, Co-President
president@atlanta.aiga.org
Dallas is passionate about organizing and empowering AIGA members to leverage our unique talent and resources to create a vision for Atlanta with Design at its center. As the Creative Director for Neenah Paper, Dallas loves the tactile immediacy of high-end print processes, obsesses over beautiful typography, and is an avid believer in strong, simple communication that informs as well as surprises. A native West Texan and Portfolio Center Grad, Dallas lives in Atlanta with her husband and four dogs. She enjoys canning, preserving, and pickling her signature "jammies".
Sam Eckersley, Co-President
Sam Eckersley is a founding partner and creative director of Rogers Eckersley Design (RED), an Atlanta based design studio specializing in branded identities, campaigns, and events. One of his primary goals is to work with admirable people that in some way bring value to the world. That basic philosophy has lead to years of building meaningful relationships that go well beyond client work. He regularly plays the role of advisor, lecturer, and speaker, and is currently an adjunct professor at Portfolio Center. Sam is working with AIGA to help support and unite Atlanta's vast in-house design community through a series of small, medium, and large events.
Stephanie Grendzinski, Vice President
vp@atlanta.aiga.org
Stephanie is a designer, educator, and a natural facilitator. As Vice President, she will be a sounding board and support the initiatives being rolled out by every committee. Her longevity in the design industry and educational community allows her to make connections with cultural and civic leaders through design. She has been an art director and designer for over a decade, and child advocate for longer. Stephanie believes the Fibonacci sequence is the most impeccable example of design.
Dione Jensen, Secretary
secretary@atlanta.aiga.org
After a few years of practicing accounting as a CPA, Dio decided to completely change careers and follow her passion for design. She feels this is the best decision she has ever made and is now a designer at The Partnership, an Atlanta based agency. Dio takes every opportunity she can to broaden her design horizons, like the SVA Masters Typography Workshop in Rome with Steven Heller, Lita Talarico, and Louise Fili. If you don't find Dio at work or working on her personal design projects, you will find her strolling down the streets of Virginia-Highland with her husband and adorable dog.
Shawn Brasfield, Treasurer
treasurer@atlanta.aiga.org
With more than 20+ years in the design profession, Shawn has a passion for all things visual. An accomplished graphic designer, illustrator, photographer, artist and teacher, Shawn has been involved in the Atlanta design scene for almost all his career. He currently is the Graphic Design Director for tvsdesign, a multi-discipline architectural and interiors firm headquartered in Atlanta, Georgia. Shawn has a love for education in helping young talent grow and has spent many years teaching graphic design at Miami Ad School @Portfolio Center. As AIGA's Treasurer, Shawn enjoys his role 'orbiting the giant hairball' keeping all things financial in order.
Brian Rice, Partnerships Chair
partnerships@atlanta.aiga.org
With more than 20+ years of experience with Procter & Gamble, The Coca-Cola Company, and Bristol-Myers Squibb, Brian has led the design and creative communications on a regional and global level for several of the world's most valuable, trusted, and iconic brands. Today, Brian serves as the Senior Director of Design & Package Innovation for Georgia-Pacific, headquartered in Atlanta. As head of design, Brian is responsible for overseeing best practice and capability development in many areas of design for the company's consumer brands. Brian holds a BS degree with honors in Graphic Design and Management from Florida A&M University, where he currently sits on the advisory board for the School of Journalism and Graphic Communications. Brian often mentors emerging designers and youth who have an interest in design related careers and looks forward to working with the local design community in Atlanta!
Kate Ray, Membership Chair
membership@atlanta.aiga.org
Kate has always found herself doing some sort of art since she was a little kid—often times staying up late so she can finish her many projects. Finding her true passion in high school after winning a photography reward lead her to become the school gallery's art director. The moment she realized that this is something she wanted to dedicate herself to, she attended the Savannah College of Art and Design and majored in photography. However, after taking her first advertising class a year later, Kate realized her true potential to utilize her passion for art not only in photography but in becoming an art director. Kate then switched her major and got her BFA degree in Advertising and never looked back. Kate has since then lived in Atlanta starting out with an internship at a publication design agency then moving forward as a designer at a healthcare marketing agency. Now, she is an Art Director at Brown Bag Marketing where she develops compelling visual solutions for a full range of creative and marketing ideas with an emphasis on generating dramatic results for clients' brands.
When not at work, Kate spends her time doing freelance photography and walking the beltline with her adorable aussiedoodle named Hershel. Most likely with a King of Pops popsicle in her hand, on the way to a place that has great margaritas.
Taylor Reed, Communications ­Co-Chair
communications@atlanta.aiga.org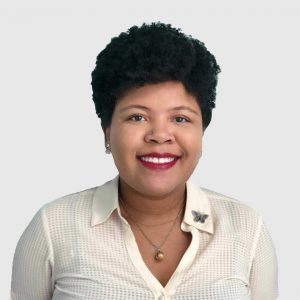 Taylor Reed is an emerging designer who focuses on functional, accessible designs with lovely form — especially when it comes to identity design and digital design. After supporting AIGA ATL as a student and a committee member, her goal as Communications Co-Chair is to optimize social and email content to better serve our chapter's design community. When she's not reviewing scheduled social posts, or snapping (multiple) pics at creative events, she soaks up design inspiration from her surroundings — nature, architecture, workshops, and even sweets.
Pauline Pellicer, Communications Co-Chair
communications@atlanta.aiga.org
If you think of a designer as someone who creates pretty things that make the world a better place, then Pauline completely agrees with you. You see, Pauline has been creating pretty things for some time now and even though we're not sure of her global impact, she is certainly having a positive effect as a Senior Art Director at Brown Bag. Before Brown Bag, Pauline worked at Coastal Living Magazine, American Cancer Society, The Reynolds Group and id8 (formerly Sellier Design). A rare Atlanta native, Pauline likes exploring her city with her pup, Blue Ivy, but also traveling the world.
Katie Bryl, Programming Chair
programming@atlanta.aiga.org
Katie joined the AIGA Programming Committee to stay involved in ATL's creative community after graduating from Savannah College of Art and Design in Atlanta with a BFA in Graphic Design. An event programming guru, she is constantly working on new events to show off Atlanta's design scene with her amazing committee. When she's not planning an AIGA event, she can usually be found at Piedmont Park with a good book and her dog, Moose. If she's not there, she's probably traveling and attempting to find the best donuts in whatever city she's in – the more sprinkles, the better!
Sherra Bell,  Education Co-Chair
education@atlanta.aiga.org
Sherra Bell is a career and business development consultant to creative professionals. She is on a mission to help her clients and audiences better align their passion and creativity with sustainable profitability by offering one-on-one coaching, training programs and mastermind groups that interpret business processes through a designer's lens. A trained improviser and an accomplished Toastmaster, she also speaks and presents at various events and conferences. Long dedicated to the mission of AIGA, Sherra's involvement began in 1989 as the founding Treasurer for Auburn Students of Graphic Arts, an early precursor to modern student groups. She has been a consistent leader since 2001, serving as Chapter President from 2005-2007 and two consecutive terms on the National Nominating Committee from 2007-2009. Sherra returns to the AIGA Atlanta Board as Education Co-Chair to oversee the Student Board she originally created in 2006.
Deborah Jones,  Education Co-Chair
education@atlanta.aiga.org
Deborah is a graphic designer and dog enthusiast from Atlanta. With a love for all things illustration, she has a strong background in traditional art and loves the greasy feeling of graphite on her fingertips. Her traditional art background was what would eventually lead her into the world of graphic design, in which she received her B.F.A with a minor in Marketing at Georgia State University. Deb loves laughing, sketching, concept creation, and believes great design begins on paper and not the screen.
Therese Huffman, Business of Design Co-Chair
businessofdesign@atlanta.aiga.org
Therese is the owner of Signature Design Collaborative LLC, founded in 1993, a niche company that designs Interpretive Visitor Experiences. You can find her company creatively telling cultural and history stories, in ways that you can touch and feel, in museums, historic sites, parks, trails, themed interiors, even along city streets.
As Co-Chair of Business of Design, she established the Women's Business Initiative at AIGA Atlanta, "WOA". She is a passionate advocate for our AIGA community and in particular, the Atlanta design community. The goal for WOA is to be an initiative to elevate women working in the design industry for their vision of success.
Greg Corey, Business of Design Co-Chair
businessofdesign@atlanta.aiga.org
Kicking off his career with The Home Depot and later starting his own business, Greg has spent nearly three decades working in the design space. As Founder and Principal of Porchlight, a creative agency specializing in branding and packaging design, Greg has spent the last 15 years building and crafting his brand, while doing the same for companies ranging from start-up to Fortune 100 brands. What started as freelance work out of his dining room turned into the agency Greg runs today and his passion for design is constantly reignited by the desire to turn brands into heroes. Greg's mantra has always been, "there's no substitute for hard work" and that is the driving force behind Porchlight and everything Greg touches. When he isn't in the office, Greg is spending time with his Wife, Amber and two kids, Vivian and Oliver.
Mike Williams, In-House Chair
inhouse@atlanta.aiga.org
Mike is an in-house Creative Director at AT&T, where he has the privilege of building the value of one of the world's most iconic brands across the company's consumer offerings. Prior, he was on the agency side building brand experience and identity programs, working closely with in-house design and marketing teams at some of America's top brands. He has a passion for examining how brands and society shape each other. He's excited to support Atlanta's in-house design community with programs and content that inspire designers and help them be more valuable and effective.
Nicky Riale, Mentorship Co-Chair
mentorship@atlanta.aiga.org
Nicky Riale is a freelance graphic designer and illustrator currently living in Metro Atlanta. With a background in fashion, Nicky switched career paths and completed Georgia State University's Graphic Design Program in 2017. Her primary interests are branding, user experience, and conceptual design. She is passionate about finding ways that design can intersect with and promote public/community art. Nicky is excited to support Atlanta's design community by bringing people together in order to mentor, network, and accomplish amazing ideas. When not designing, Nicky enjoys art shows, design talks, road trips, night cheese, and taking her dogs to the river.
Jake Burk, Mentorship Co-Chair
mentorship@atlanta.aiga.org
Growing up a cowboy in rural Oklahoma, it wasn't until college, that Jake discovered a deep and abiding love for visual design. As that passion developed, he received his first degree in 3D Animation and Video Editing and went on to earn a Bachelor's degree in Advertising from Oklahoma State University before moving to Dallas, TX and working with clients like Bank of America, BestBuy, and Continental Airlines. After relocating to Atlanta in 2009, Jake took a short break to pursue a Master of Arts degree at The Savannah College of Art and Design. Today, as an Associate Creative Director at Nebo, Jake merges his laid-back mid-western attitude with the fast-paced world of interaction design to create award-winning experiences for such clients as NAPA Auto Parts, The Home Depot, The Coca-Cola Company, Club Car, and Georgia Aquarium. As a Mentorship Co-Chair, Jake looks back on his 15+ years in design with a sense of respect and admiration for the people he's met along the way and an appreciation for the importance of developing young designers.
Deanna Clark,  Diversity & Inclusion Chair
diversityinclusion@atlanta.aiga.org
With a past career as an Art Historian in Museum Education, Deanna has worked in Public Programming at illustrious institutions such as The Peggy Guggenheim Museum in Venice, Italy, The Metropolitan Museum of Art in NYC and The High Museum of Art in Atlanta. She decided to change careers and pursue her passion for the arts as a Creative. Now a Designer, Art Director and Illustrator, she's worked with Ogilvy & Mather as well as freelances with various organizations in Atlanta. In her spare time, she's usually writing songs, singing and playing her guitar, Azulita. She is passionate about Diversity in all aspects of the arts and looks forward to the influential impact it will bring to AIGA.
Wade Thompson, President Emeritus
presidentemeritus@atlanta.aiga.org
Wade is the founder and creative director of Son&Sons. He is a creative visionary with a kind heart, gentle spirit and sharp mind. What's really nice is that he'd never say that about himself. As President Emeritus, Wade is helping the Atlanta chapter connect with business and cultural leaders to address our communities' greatest challenges through design.
Hank Richardson, AIGA Ambassador & AIGA Fellow
Hank is the Design Coach at Portfolio Center. He is an AIGA Fellow and recipient of the New York Art Director's Club 2010 Grandmaster Teacher's Award. He is a Director of the Museum of Design Atlanta and has served on the AIGA National Board and board of The Society of Typographic Aficionados. He is the AIGA/Atlanta Education Co-Chair.  As an educator, he brings strategic design-thinking into his teaching integrating design, business, and technology. Hank advises student leadership teams that translate design-led business development for start-up companies and products within a real-world context. Hank works with industry leaders from The Coca-Cola Company, Georgia Tech School of Architecture, and the Advanced Technology Development Center at Georgia Tech among others. He has contributed to such books as Design Wisdom, The Education of a Graphic Designer, Becoming a Graphic Designer, Design for Communications, The Education of a Typographer, Graphis, and Teaching Graphic Design. He travels widely, speaking at universities, and conducting workshops and seminars at conferences around the country. His students inhabit the most respected corporations, design firms, advertising agencies and entrepreneurial companies in the world — living testaments to his ability to nudge each student to a personal threshold where their best work is conceived.