Today's uncertain business world requires diligent plans for future transitions. With an infinite number of possible opportunities, this workshop will help define where to begin and how best to focus finite effort and resources.
This workshop will address the following:
● challenge you to think differently about defining your place in the market
● increase your confidence/lower your anxiety about prospecting
● support correct positioning for higher value engagements and more successful collaborations
Shared ideas during the session as well as networking before and after will also allow you to transform competitors into collaborators as you connect with and celebrate your uniqueness among all of the other amazing female designers and business owners in attendance.
Early Bird Pricing- till Feb 23rd
Member: $15 
Non-Member $30
Student Member $10
Student Non-Member: $15
Online
Member: $20 
Non-Member $35
Student Member $15
Student Non-Member: $20

At-Door
Member: $25 
Non-Member $40
Student Member $20
Student Non-Member: $25
Where to Park
https://www.parkme.com/lot/87839/colony-square-parking-atlanta-ga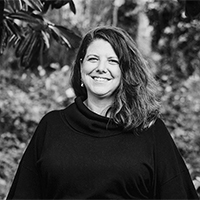 Sherra Bell has been helping businesses and individuals move into new levels of growth for 20 years. She has also held many leadership roles in AIGA's local and national design community, including AIGA Atlanta President from 2005-2007. In addition to the Women's Initiative, she is currently involved as an AIGA Atlanta Mentor and supports the AIGA Atlanta Student Board as well as the newly established AIGA Atlanta Design Continuum Fund (and its Endowment Campaign) for local student scholarships.