Join us at Atlanta Printmakers Studio for INK & DRINK just in time for Valentine's Day! Letterpress 25 of your own Valentines Cards, and then line 25 unique coordinating envelopes to match.

This is an AIGA Member only event.
Space is limited, so reserve early!

INK
Please note this is a hands-on workshop. All supplies will be provided.

DRINK
As always, this event is BYOB!

ABOUT
Atlanta Printmakers Studio is a non-profit community printmaking studio located in the historic West End neighborhood just minutes from downtown Atlanta, Georgia. Founded in 2005 to promote the fine art of printmaking, the studio offers access to a well-equipped studio and diverse educational programs that foster the development of printmaking as a vibrant and progressive art form.

Atlanta Printmakers Studio
675 Metropolitan Pkwy SW
Suite 6026
Atlanta, GA 30310


Directions:
See Map Below. The entrance to the Metropolitan Complex has a keypad on the left fence that opens the gate. The gate is usually open during the day, but here's the code just in case....
gate code is 7868#.
 Simply enter the numbers then press the # key. 
Most of the streets between buildings have been changed to one way. Once you have gone through the gate, turn right and drive to 
the end of building 4. TURN RIGHT, then right again between buildings 5 and 6. Drive almost to the end of buildings. 
We are on the left – #6026 . There are 4 parking spaces by our front door. You may park anywhere up and 
down the buildings

 EXCEPT in front of doors (including garage doors) to avoid being towed

. If those are full, you 
can drive around to the back of the building. There is a gravel parking area. You'll 
need to walk back around the building to enter the front door.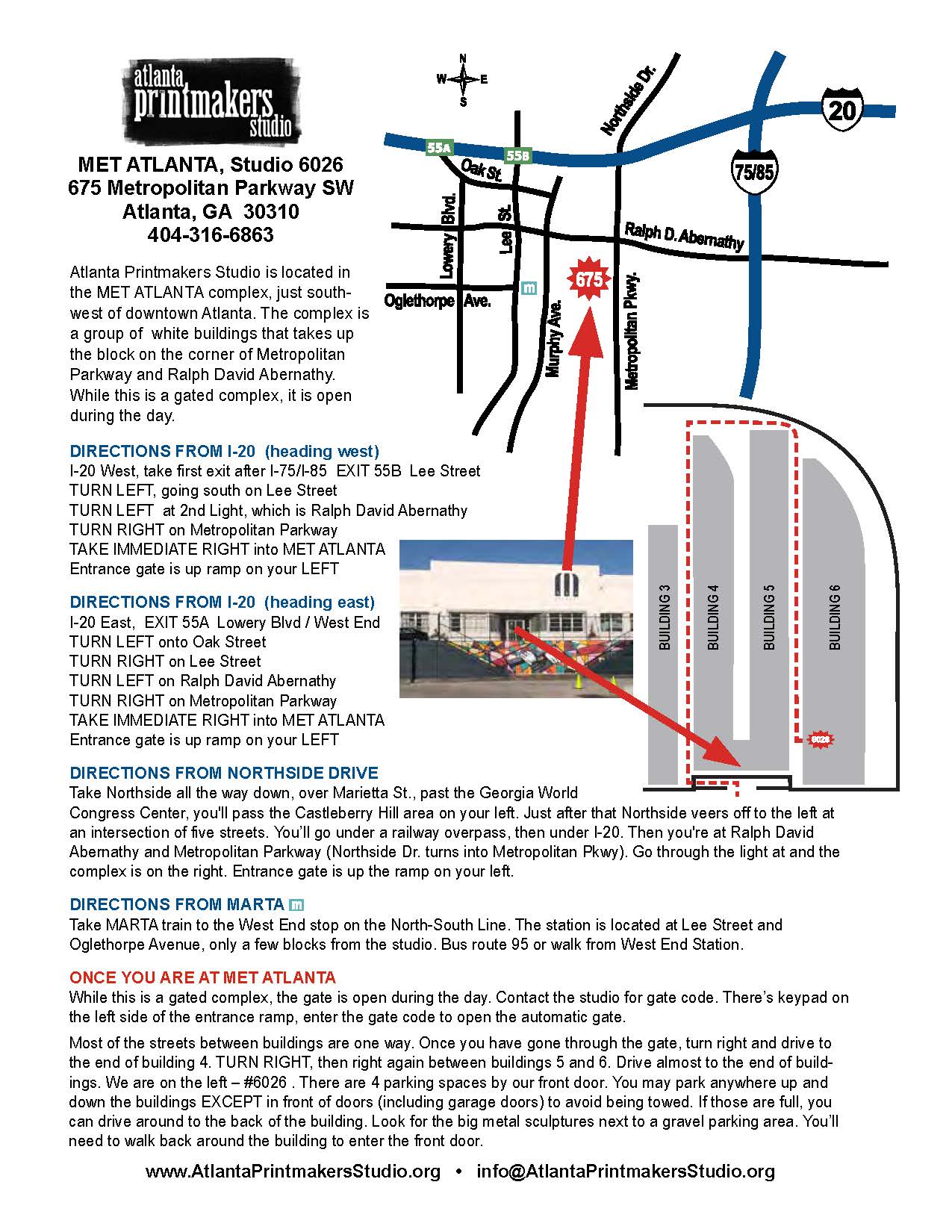 Would you like to volunteer?
AIGA Atlanta is a volunteer-run organization, and we're always looking for energetic and passionate volunteers to help at our events. The plus side is that you don't have to be a member AND you get in for FREE! If you are interested in volunteering for this event, please email membership@atlanta.aiga.org.